Local SEO Tips for your Business
When the marketplace is packed with choice, how do you get a consumer to notice your local business first? Boost the online visibility of your business to potential customers with strategic local SEO.

How do you show up in local search when similar businesses in your area also compete for your customer's attention and business? An effective way to stand out from the competition and draw customers your way is to optimize your web presence for local search. 
Google, the most widely used search engine in Canada, localizes search results based on the searcher's geo-location. Along with the distance or proximity factor, the relevance and prominence of a business also dictates its rank in local search results on Google Maps and Google Search. 
So, the success of a local business and its ability to attract potential consumers within its neighbourhood depends on optimizing its online presence for distance, relevance and prominence. In this beginners guide, we break down these three search engine ranking factors into actionable steps that will optimize your business for local search. 
What is Local SEO?
Local Search Engine Optimization (SEO) refers to a set of practices that optimize a business' online presence so local searchers in the area can discover it quickly and easily. 
Search engines want to give the user exactly what they want. Google shows local results for queries with a local intent. For example, if you run a nail salon, you need to optimize your online presence for queries like "nail salons near me" to direct that customer to your location.
With local SEO, you help search engines understand your business better to recommend you as an option to the searcher. 
Local SEO, is therefore applicable to businesses with a physical location like a sushi restaurant or those that travel to their customer like a lawn mowing service. 
Local SEO is an effective marketing tool that promotes a business at the exact time a consumer is searching for them or for products or services they provide. 

Why does my business need Local SEO?
While traditional SEO is important for the overall discovery of your website by the search engines, you must complement it with local SEO to rank for local keywords and for faster discovery. 
Google, which corners 92% of the world's search engine market share, recorded these observations about consumers' local search behaviour in a study.
4 in 5 consumers use search engines to find local information
50% of smartphone consumers visit a store within a day of their local search
76% of local searches result in a phone call
18% of local smartphone searches led to a purchase within a day compared to 7% of non-local searches
Evidently, local SEO is key to driving people to your storefront. Consumers want and act on location-based information that's customized to their city, postal code or immediate surroundings. Without local SEO, your business risks being hidden beneath a pile of search results. If your business is not on the first page of a search engine results page (SERP), you lose your competitiveness.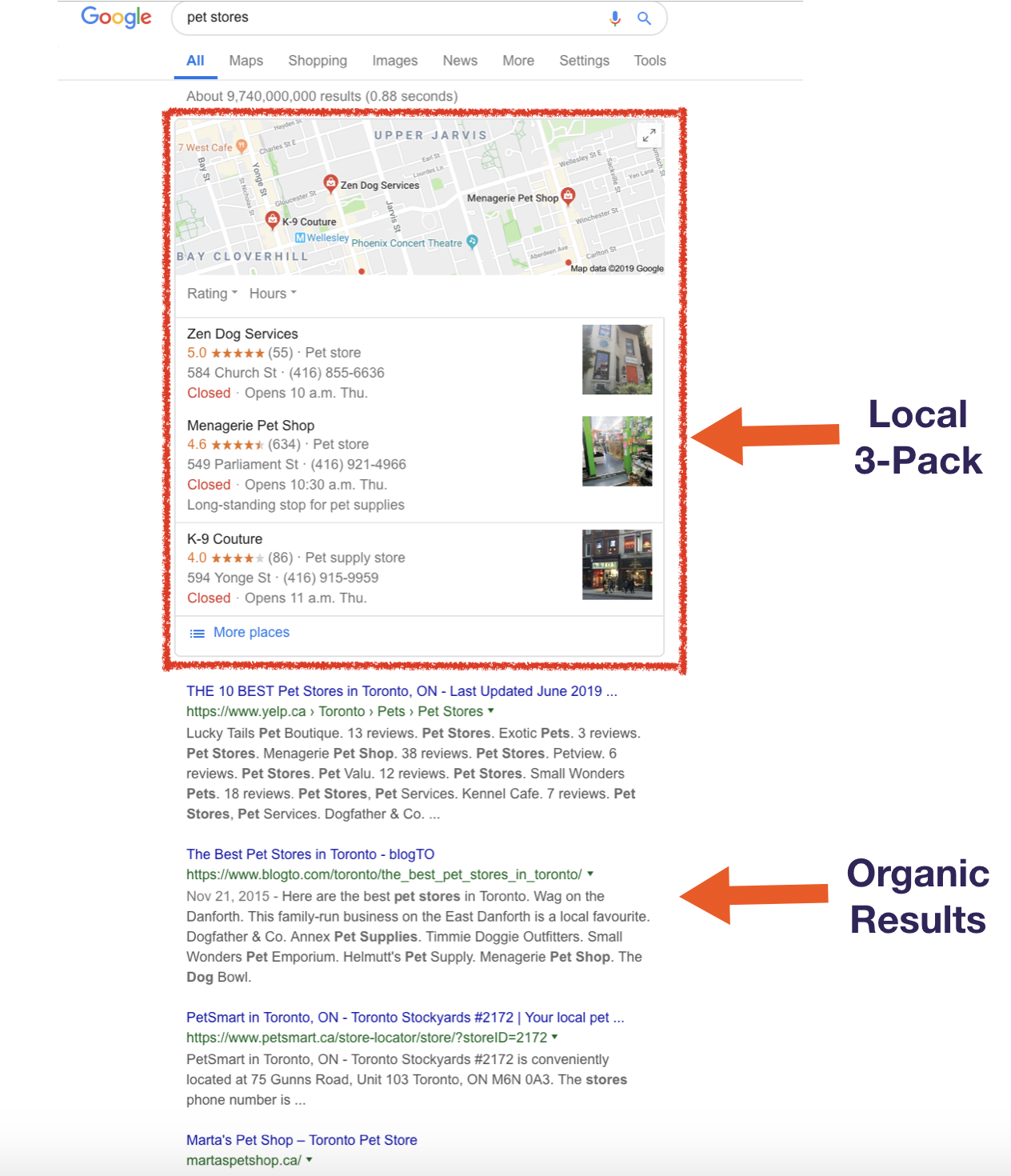 Google's local 3-pack
Google displays search results as a combination of a local pack and organic results. The local pack consists of top three local business listings most relevant to the search query, highlighted in a box with their locations pinned on an accompanying map. The rest are regular organic results. 
The 3-pack shows up in 93% of searches with local intent. As a business, your SEO efforts should focus on appearing in this coveted section of a search engine results page (SERP). 
Tips to help your business appear in local search results
To implement local SEO for your business, first ensure you meet the basic requirements of traditional SEO. Your website must be mobile-friendly, easy to use, peppered with useful and relevant content, and should have built domain authority with quality backlinks. Building a website is quick and easy when you use online website builders. There are ten considerations to factor in when you choose one for your business.
Everything that applies to traditional SEO also applies to local SEO. Learn how to rank in organic search results in our SEO checklist for businesses
While the motive of organic SEO is to get a website to rank well in a SERP for specific keywords regardless of the searcher's location, local SEO is geared towards increasing rankings for a website in a limited geographic area. Here are a few actionable steps to appear in local search results on Google.
Local SEO Tip #1: Create a Google My Business profile
When people look for businesses and places on Google Search or Maps, they're shown local results based on their geo-location. Google pulls in information from businesses listed with them through their Google My Business feature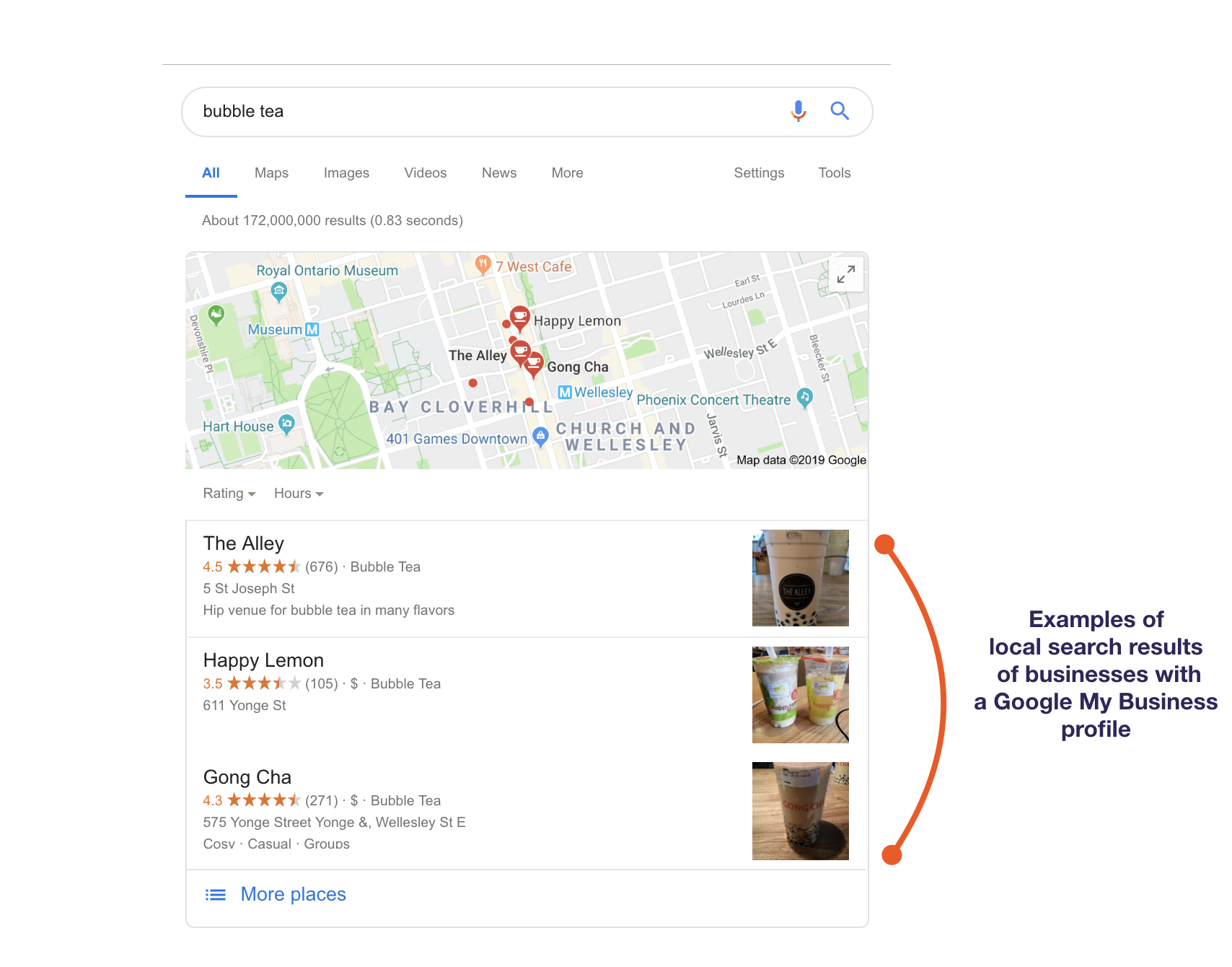 According to SEO experts, your website is no longer the first impression on your customers. The de facto home page of most local businesses today is the knowledge panel that shows up against your business name on Google. That knowledge panel is the Google My Business profile.