Ownr-Founded GreenerBins Makes Composting Easy
Every business has a different story. Want to share your story? Drop us an email and let us know you would like to be featured at marketing@ownr.co.
---
This week's feature is on Dane, founder of GreenerBins! This is his story:
Tell us about your business 
I created GreenerBins to reduce the amount of food waste being sent to the landfill in my hometown of Windsor, Ontario. There is no municipal food waste pickup locally, so GreenerBins is filling this gap. We provide a weekly organic waste pickup service to homes, schools, and businesses, and then process the waste into useable compost. This compost is eventually distributed back to the community to support local gardening efforts, urban farms, and school gardens. Since our launch in June of 2018, GreenerBins has diverted over 50,000 pounds of food waste from our regional landfill.
What made you decide to become a business owner? 
Entrepreneurship runs in my family; my father owned a renovation business for many years and my mother built a successful tutoring business from the ground up. I always admired their bravery, creativity, and strength, and wanted to start my own enterprise as soon as I could. Meanwhile, I developed a strong passion for environmentalism. I saw so many environmental atrocities all around me and felt hopeless to stop it. Then, one day a light bulb switched on and I thought: "why don't I combine my love for business with my passion for the environment?" and GreenerBins was born.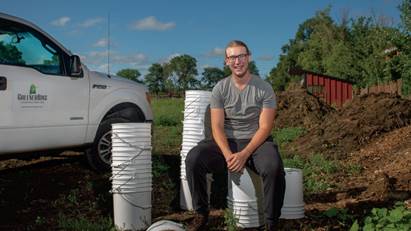 When you were making your business official, what did you tackle first?
My first step was registering my business as a sole proprietorship with Ownr. I felt like once I had an official government document saying that my business existed, I would be propelled to make it real in every other way. I was so scared to start. Luckily the Ownr process was so easy that it worked just like I thought it would: as soon as I was registered, I started building my website and social media pages, applying for grants, and purchasing all the equipment I would need. Ownr was the push I needed to get started.
What has been your biggest success or earliest win in running your business thus far?
My biggest success with GreenerBins has been all the amazing media attention that I've had. From several local newspapers to CBC radio to University of Windsor campaigns, I am so thrilled with all the support. With all this news coverage, thousands of people heard about GreenerBins right away and my user-base grew exponentially.

What has been your biggest challenge in running your business thus far?
The biggest challenge thus far has been keeping up with the growth! This is the best possible problem to have and I'm certainly not complaining. The company took off in a way I never even dreamed of. GreenerBins officially launched in June with the goal of getting 30 customers by the end of August. I was going to run this small pilot program and work out the logistics, the financials, etc. It didn't quite go that way…by the end of the first week of June, I already had 36 customers. By July, I had over 75. By the end of August I had nearly 150 customers; 5 times my original goal. This was amazing in everyway, but it also meant I needed 5 times the equipment, 5 times the customer service, and a pickup route 5 times bigger than I had planned for. Keeping up with this growth was incredibly demanding, and probably the hardest thing I've ever done. I pulled many 80 hour weeks. But the truth is, I wouldn't change a bit of it. I've loved every crazy minute.
What does a typical day look like for you?
First thing in the morning, I spend about 2 hours emailing current customers and potential future customers and organize my day. I have 2 employees now, so I coordinate their schedules with mine and send them what needs to be done. I spend a lot of time in meetings with mentors to plan for future growth and expansion. And, no matter what, I'm always out there with my pickup truck, picking up buckets full of food waste and bringing them back to the farm where we compost it all.
Was there anything you wish you knew before launching your business?
I wish I knew how successful GreenerBins would be, so I wouldn't have been so scared to start it. I wish I could sit down with myself from about 8 months ago and say "Hey, Dane. Don't be worried. You have no idea how awesome this is going to be and how good it's going to feel. You can do it. Just go for it."
Are there any tips you would like to share with other business owners or future business owners?
Follow your gut. 100% of the time. Older and wiser people told me to do a lot of things differently, but you have to remember that no one knows your business better than you do. Now, this absolutely does not mean to ignore everyone and charge ahead like a bull. You have to listen to other perspectives and be open to advice and make necessary changes. However, if you really feel something, believe something, or know something, you're probably right – and you should always, always listen to that.
Where can people find your business?
Website: www.greenerbinscompost.com
Facebook: GreenerBins Composting Company
Instagram: @greenerbinscompost
---
Want to share your story too? Drop us an email and let us know you would like to be featured at marketing@ownr.co.
Ready to start your business? Ownr has helped over 60,000+ entrepreneurs hit the ground running quickly—and affordably. If you have questions about how to register or incorporate your business, email us at support@ownr.com.
Share This Story, Choose Your Platform!